Yes! I haven't been able to get anymore episodes of this in so long. These to episodes were great however and well worth the wait. Episode 11 had me in stitches. With all the parodying, it was quite possibly the funniest episode yet. Episode 12 was a good ending. It wasn't incredibly spectacular, but I wasn't expecting a spectacular ending, knowing how insane this show is. It was quite sweet though. For a brief summary, episode 11 focused on Sasuke fighting these two ogre things in the first part. In the second half, the gang put on a play in Kaede's house. In episode 12, it's been a year since Shinobu and Kaede met. Kaede goes out to buy her a presents. Shinobu learns that she has to take a Ninja exam to follow her dreams and study abroad in England, supposedly the best place for Ninja training. Kaede says that she'll come, but winds up staying at home and acting all sad about it. However, she shows up as Shinobu, who's sad as well about leaving Kaede, is about to quit. Shinobu is able to pass and leaves. However, she fails school in England and returns home to a depressed Kaede. Onsokumaru later complains that he didn't get to show up in the last scene. Very cute, very awesome! I love season finales.
These two episodes were so funny. I loved all the parodying they did. The Christmas episode was cute. With only two episodes to go I wonder if they'll ever get back to plot thay hinted. I doubt that, but if they do then something funny will probably happen.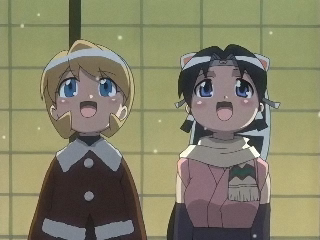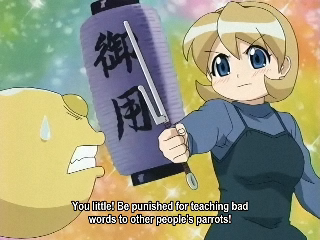 These episodes had so much cuteness that I found it extremely difficult to use only four screenshots. I settled on choosing two from each half. As for reviews, the hot springs episode was so mild. I didn't expect that at all, especially considering some of the previous perverted things that have happened in this show. The second episode was cute. Onsokumaru is so perverted, yet loveable.