Rin and Nozomi have decided to keep the whole being Precure thing a secret now (darn!) but there still exists the fact that Urara knows at least something about them. She eventually confronts the two and asks them what they mean by "Precure" but the girls (Rin in particular) are of course reluctant to fill her in. While in a school auditorium, Nozomi and Uraha later get to talk about their dreams for the future. Urara enjoys performing and making people smile, but she's not happy because she doesn't have any friends. Therefore, Nozomi decides to be her friend. She also explains the concept of the Precure to Urara, as it's now become her purpose in life. They're interrupted though when Rin and Coco show up, as well as a new member of Nightmare, who was spying on them. This one looks kind of like a frog. Of course, he's trying to steal the Dream Collette, so he transforms the stage curtain into a Kowainaa. Nozomi and Rin transform to fight it as they have Coco take Urara to safety. Meanwhile, Karen and Komachi are in class and can sense that something is again happening in the school. Back at the auditorium, Urara is told to run away, but she refuses. Coco gets hurt trying to protect her. After this, Nozomi is able to convince her to flee. However, she still feels the shockwaves from battle and can hear Nozomi scream Concerned about her new friend, Urara returns. A yellow butterfly comes to her and so she's now able to transform into Cure Lemonade. She attacks with Precure Lemonade Flash. Rin and Nozomi are able to escape the Kowainaa's hold. They finish it off and the frog Nightmare flees. Afterwards, Urara is welcomed as the third Precure member.
Alright, so now we have Cure Lemonade. I personally think she's got a ridiculous name, but I can get used to it. Speaking of names, the bug Nightmare is Girinma and the boss is Bunbii. Now I just have to figure out the frogs name. His character design kind of creeps me out. I think Girinma's kinda cute for a mutant bug (although after Spider Riders, I have new respect for mutant bug people) but I don't like this guy much. I find it interesting that although Girinma wasn't defeated yet, the next villain has already shown up. It's not that I wanted this show to be exactly the same as Splash Star, except with more magical girls, but I half expected it. Differences like this will make it interesting. It would be neat if maybe Girinma turned out to be a Gooyan-like character though. Perhaps I should shut up about him now. Fangirling over the villains seems to be what I do on this blog though, as of late. The Precure girls (or should I call them Pretty Cure. My usage of both terms probably gets confusing) are the central focus and also cool characters. Then again, it was Minori, Saki's little sister, whom I was obsessing over in Splash Star. I wonder if the families of these girls will be developed. Nozomi's father appeared in this episode, but that's the only sign we've gotten of them. I must remind myself once again that this is not Splash Star. My goal between now and the airing of the next episode (which is only in a few days. Darn my vacation brain.) is to drill that factor into my mind. Next time, Komachi becomes Cure Mint.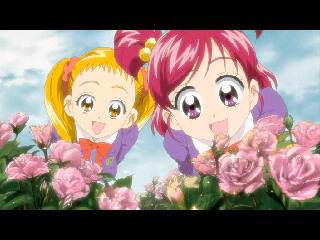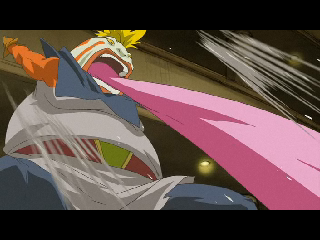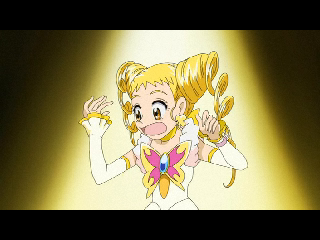 So this week, Rin joins the Precure as Cure Rouge. I have major love for the fact that Nozomi doesn't have Saki and Mai's behavior of keeping their secret from the world. Yeah, just a silly pet peeve of mine. She actually tried to recruit Rin to help her. Of course, not knowing the details, Rin turned it down at first. In the end though, she faced her fears and gained the power to save Nozomi from the Kowaina-of-the-week's bondage. Anyway, a lot of interesting things happened this week besides that. I'm surprised by how chock full of details and character development this episode was, considering this is only episode two. We got to learn about just how close Rin and Nozomi are. They've been friends for a long time and each is very important to the other. When they were little, Rin would help Nozomi feel better whenever she got hurt and in turn, Nozomi would help Rin when she got scared of things. Next, it was revealed why Coco needed the Dream Collette. Apparently, a close friend of his is sleeping inside it. I wonder how he's going to get him out. Perhaps capturing the Pinkys will help. That's another thing that was explained. I was totally lost last week by the concept of the Pinky Catch. I thought the watches were just for transformation, but I guess not. The final interesting thing was that we got to see the big boss. Or at least, I think he's the boss. I didn't catch his name though. What's interesting enough is that he seems to be human. I'm a bit disappointed, because I hoped he'd be cool-looking like Akudaikaan-sama. Although, I guess it's possible that he could transform into something else like that bug guy who's been the main enemy so far. Another thing I got out of this episode is that the Nightmares seem to be an organization, rather than a species. I wasn't sure just what they were last week (thought it could've even been the bug's name) and I'm actually still not sure. Oh well, I'm sure I'll pick up on things eventually as I watch this. Speaking of which, I'm not certain as to whether I'll blog weekly. If anyone wants me to then I definitely will, but if not I'll just keep this on the side for a while like I originally did with Splash Star. Then when I get more into it I'll have more to say about it. If this keeps up with it's fast pace though, then it might turn out to be exciting all throughout and require to be talked about more. I don't know though and I don't have my hopes up, despite liking the show so far. Next week, Urara joins the precure. She already knows about it, due to watching Nozomi and Rin this week, after chasing a butterfly to their location.
While rushing to school, a pink-haired girl spots a butterfly and starts to chase after it. She bumps into a boy and falls over, but he catches her and asks if she's okay. Embarrassed, she pushes away from him and apologizes, but the butterfly got away during this time. The boy is able to call it back and shows it to the girl, but tells her not to touch it. He asks her if she likes the butterfly and she replies that she thinks it's pretty. The boy asks her name next, which is Yumehara Nozomi. It turns out that someone is watching them. The boy senses this and runs off, also letting the butterfly go. Wanting to know his name, Nozomi calls after him but can't find him anywhere. However, Nozomi still has to get to school. Her friend Rin calls her, and so Nozomi hurries to the bus. She makes it though, and they arrive at school. A blue-haired girl, Minazuki Karen, is also dropped off at the school in a limo. She greets Nozomi and Rin, as well as a green-haired girl(didn't catch her name) who was also on the bus. Karen, who is revealed to be the student council president, walks toward the school with the green-haired girl. As for Nozomi and Rin, they're surrounded by representatives from various sports teams, who are trying to recruit Rin. Nozomi goes ahead on her own, but looks a little left out. She winds up finding a blonde-haired girl reciting some kind of script, whom she recognizes as the idol who's picture was on the bus. The girl introduces herself as Kasugano Urana. Nozomi is very excited to meet her and find that Urana is practicing for a dorama. Later, after arguing with Rin over the fact that she should be searching for a purpose in life, Nozomi she sees the boy from earlier out the window. She chases after him again, following him into a library. There, she finds only Karen and the green-haired girl, but asks them if they saw a boy come in. They haven't, but Nozomi is surprised and impressed that Karen known her name. It's apparently her duty to know every student's name. Nozomi then goes to continue searching for the boy. Everytime she thinks she spots him, he keeps vanishing though. Nozomi does find a gold, glowing book and curiously pulls it from the shelf. The glow fades but she notices a butterfly on the cover. The boy seems shocked to see it and refers to the book as the Dream Collette. He wants Nozomi to give it to him, but first she wants to know just who he is. While they fight, the boy accidentally reveals that he's from another world. Nozomi and the boy have a tug-of-war for the book, which Nozomi wins. In a puff of smoke, the boy accidentally transforms into an animal, which says "Coco." Nozomi think's it's an adorable tanuki and hugs it, which the animal doesn't appreciate. He gets the book though and reveals that his name is Coco. Then the person from earlier, who was pursuing Coco, shows up. He's called a Nightmare. The Nightmare asks what Coco wants with the Dream Collette. He replies that he just wants the Nightmares to not get their wish. The Nightmare transforms into a bug and starts to attack Coco. Nozomi tries to save him, by throwing the book which carried the Dream Collette at the Nightmare, but it's sliced in half. That gives her the time to escape with Coco though, but the Nightmare chases after them. Hearing all the commotion, Karen and the green-haired girl go to investigate, but only find a mess of books and a slashed up floor. Meanwhile, Rin and Urana also hear something from outside. Nozomi and Coco are eventually cornered, but Nozomi still refuses to hand over the Dream Collette. Knowing that dreams are important things, she wants to protect Coco's dreams. The butterfly from earlier comes to Nozomi and it starts to glow. It then turns into a watch on her arm. Coco notices it and realizes that with it, she can transform. Nozomi then becomes Cure Dream. Coco is surprised to see that Nozomi is one of the Legendary Soldiers, Pretty Cure. To fight back, the Nightmare transforms a painting into a monster, called a Kowaina. Nozomi starts to run in fear, but learns from Coco that she can fight it. However, the Nightmare grabs her and tells Coco to exchange the Dream Collette for her. Nozomi tells Coco not to though. Declaring that she won't lose, Nozomi escapes. Using Precure Dream Attack, she defeats the Kowaina. The Nightmare escapes for the time being. Coco is very grateful though. He reveals to Nozomi that there are five members of the Pretty Cure, so she'll have to find the rest.
Point one: Don't expect me to write this much for this show ever again. I went on an accidental writing spree. Point two: I have no idea if all of my spellings and names are correct. There was a bit of engrishy stuff here. Point three: I'm very impressed. Of course, the first episode of Splash Star also impressed me highly, but this one was possibly an even better first episode. What surprised me is that the entire team wasn't formed in one episode. They all made appearances, but there's just one member of the Pretty Cure for now. So far, I think my favorite is either Karen or Rin. Nozomi is utterly generic (though could be a decent character.) The other two are also alright. Coco is pretty cute in both forms. It will be an interesting concept to have the animal be able to turn into a human, because that could lead to shipping with the Precure girls. I could see a Nozomi x Coco pairing. I doubt romance will be developed too much though. Barely anything came out of the romance in Splash Star. Still, I think it would be interesting. I have high hopes about this series so far. It's going to be a long ride, but I'm going to try to watch it to the end. Also, I enjoyed the OP and ED much more than Splash Star's first set of themes.