I'm sick as a dog but back and as expected, missed a whole lot. My goal is to summarize each of the series I missed in 2 sentences or less. This could get silly (and will more then likely have run on sentences) but here we go!
Okusama wa Joshikousei 11- In the first half a random stranger proposes to Asami but without revealing their secret, Ichimaru and Asami tell him that Asami already loves someone else. Next, on a class trip, Satomi and Kasumi somehow manage to save the day because their presence stops Iwasaki-sensei from practically raping Ichimaru.
Paradise Kiss 05- Yukari stubbornly decides to ignore the advice of everyone around her and is convinced that she can live on her own. She quits school, runs away for home, and gets a temporary modeling job from Mikako.
Mai Otome 07- So Mashiro's super-sensitive about not being the real princess, who is obviously Arika, eh? What in the world was the point of that human Mikoto-looking shadow that cat Mikoto found, how is Miyu involved in this, and why does this show pose so many stupid questions?
Mahou Shoujo Lyrical Nanoha A's 08- Hayate's doom is becoming more and more likely, meaning Viita, Signum, Shamal and Zafira may have a very sad Christmas. There's no new info on the masked man, but it's now known that Graham and the catgirls are after the book of darkness.
Black Cat 07- Eve leads Sven to Train and the two rescue him and the kids but rather then being grateful, Train is rather hostile toward Eve. Eve leaves and gets attacked by Chronos number seven but Train (adorned in the ridiculous looking cat bell collar) shows up to help her.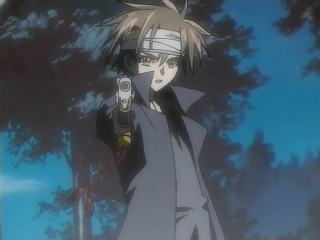 Happy Seven 08- Amano has to sing for school, but considering that her voice breaks glass, the Happy Seven have to train her. Mostly due to Kikunosuke's moral boosting she's eventually able to succeed, though things don't go exactly right. :P
Rozen Maiden Traumend 05- A fun but pointless episode centered on Hina's attempts to face the scary mailbox and deliver a letter to Jun. Hina also gets to see Tomoe again and Canaria's crazy master is introduced.
Okay, I'm aware that I just took the lazy way out, but I defeated my backlog so yay!