Arisu is upset that she has no memories, but becomes even more hurt after Aruto and Kiraha discover the photo album of them that Arisu was looking at. The to begin to reminisce on their pasts. Arisu later is contented for a while when she and Aruto go out together. Everything changes after a talk with Asuka though. Asuka tells Arisu that Aruto only loves her for her story. Later, Kiraha receives an invitation to a tea party at the library and tells Aruto that it was from Asuka. Aruto is worried about this and chases after her. When Kiraha arrives, it turns out that the invitation was really from Arisu and she's totally snapped. Kiraha is forced to fight her. Kisa was looking for Kiraha and meets up with Aruto. Asuka stands in their way to reaching Kiraha though. Kirika shows up and knocks out Asuka. She's still pretty strong without her Alice powers. Kisa thinks she's pretty cool. Aruto and Kisa then go inside the library, leaving an annoyed Kirika outside. The two are unable to stop Arisu, who has Kiraha pinned. Eventually though, she frees Kiraha so she doesn't hurt Kiraha and Aruto's feelings. She gives Aruto her story and explains what she discussed with Asuka earlier. Aruto thinks that's an absurd idea but looks somewhat guilty. Kiraha tries to tell Arisu the truth, but Arisu pushes her hand away. Arisu says that Aruto really loves Kiraha, hurting both Aruto and Kisa. Aruto disagress, saying that Kiraha is just his sister. Arisu knows that, saying that's the reason he loves her. Aruto still disagrees about the wanting Arisu's story thing and drops the pages. Kiraha goes to comfort him. Kisa tries to help, but gets yelled at by Arisu. However, after hearing what Kisa said, Arisu realizes that Kiraha is Aruto's sister and so she (Arisu) is Aruto's lover. She bids Aruto farewell and vanishes. Then Asuka shows up. Kiraha is angry and kills her, taking her story. Soon, Takion and co. show up. Aruto hears the Alice twins laughing creepily and then sees Arisu, trapped in a glass box.
I actually wanted to do a quickie, but I loved this episode in so many ways. I was constantly on the edge of my seat and enjoyed it enough to watch it twice. Here's proof that I can enjoy this even if the episode isn't entirely comprised of Kisa-chan's fangirling. A lot of surprising things occurred. The biggest surprise for me was Asuka's death. I assumed she'd be the final boss, but I'd forgotten about Takion and his army of freaks. I'm certainly glad to see Asuka go though. She was too creepy for her own good and she caused so much damage. It was also a big surprise to see Arisu go crazy. If anything, I expected that Kiraha would be the one to snap. Arisu was pretty emotionally messed up at the moment, but she seemed like an understanding enough character that she wouldn't go psycho and nearly kill Kiraha. The end of the episode totally confused me. If she understood, why did she just leave? Also, how in the heck was she suddenly trapped in the glass box? I can't wait to see what happens next. Aruto seems pretty hurt in the preview. Maybe he can snap too. Actually, that would be an improvement over his dull personality. As another thought, the animation was actually pretty good this week. It actually seemed like it was done by somewhat else at one point. Maybe they decided to shape up for the finale.
For today's fun, it's Schizophrenic Arisu Theatre!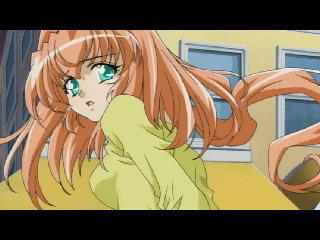 In other news, I've got a pretty bad cold. I think I'll do mostly quickies for the other shows I missed, because I'm not feeling up to writing any more essays.