Episode 25
Garderobe and Artai begin a large scale fight. Shizuru soon returns to join the otomes, to Natsuki's satisfaction. That's still not enough, but luckily Arika, Mashiro, Mai and Mikoto arrive just in time. Miyu dives underwater to the ruins of Fuuka Academy. Tomoe shows up to fight Arika. Some slaves activate the anti-materialiser, so the otomes de-materialize. This causes Arika to fall from the sky, but Chie catches her. She's stabbed by Tomoe, but it fine. Midori soon shows up to fight against Tomoe. Youko tells Arika and Mashiro to hold hands and this returns Arika's robe to her. She and Mashiro then fly toward the anti-materialiser, but Tomoe shows up again to stop them. Arika destroys Tomoe's robe and she falls from the sky but lives. Then they reach the room with the anti-materialiser. Arika makes a brief sad speech to Rena and then destroys the capsule. She briefly hugs Rena and then returns in Rena's robe. Nagi soon tells Nina to activate the harmonium and a giant Nina shadow appears as a result.
It's difficult to write about episodes that have so much combat. I tried though, but any writing can't do this episode justice. It's something that simply has to be seen first hand. It was one of the best episodes yet. It was nice to see Tomoe be betrayed by Chie and then humiliated. It's a shame she lived though. How the heck did she survive that fall? The best scene was the one where Arika got to speak to her mother though. It was quite sad to watch but beautifully done. I look forward to watching the last episode now. I've spoiled some of it, but just from pictures. I haven't read any summaries yet, so I can't wait to see what happens.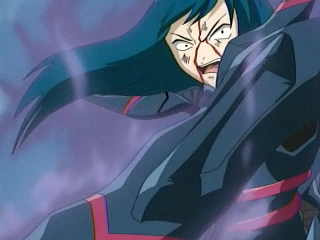 Episode 26:
Whatever Miyu did in Fuuka academy returns the otome's powers. Some go to fight the giant Nina while other's go toward the Harmonium. Arika and Mashiro go to the room with Nina and Nagi. Nina and Arika get into a fight and Nina somehow sucks Arika into space. Somehow they can breathe too. I think Sunrise was just trying to add more Gundam references here. During their fight, Arika manages to get through to Nina, but the Harmonium bursts and transforms Nina into a really ugly thing, as seen in OP 1. Mashiro tries to stop the Harmonium, but can't get near it and winds up bleeding. Back at the battle, Arika and Nina use giant, Gundam like blades on each other. Arika stabs Nina and she becomes less ugly as a result. Nina's contract with Nagi ends. Nagi, meanwhile, is taken captive by the otomes and Sergey is taken to the hospital. Nina starts to fall, but Arika flies toward her and holds her in a rather yuri-ish manner. Eventually they must get back though, because Arika is later seen at a ceremony being her usual clumsy self, where Mashiro becomes queen again. Nina has cut her hair and is with Sergey, who has survived. When he wakes up, he's lost his memory and doesn't know who Nina is or even who he his. Nina's okay with this, because they're going to start over. It's revealed that Nina changed the picture in her locket to one of Arika, Erstin and herself.
Yet another series has come to an end. It's always a relief but sad at the same time. I really liked the ending here. It was much better then HiME's ending, which was a quite disappointing one. I'm pleased that Erstin stayed dead. She was incredibly awesome, but they had no good reason to revive her. The battle between Arika and Nina was excellent. It wasn't really believable and just screamed Gundam to me, but it was still quite cool looking. I could've done with Nina's transformation being a little less ugly though. The very last scene was also touching. I was first questioning why Nina wouldn't be horrified at the thought that Sergey lost his memories, but then I realized that there are at least two reasons why. The first is probably that they had a pretty rocky relationship toward the end and if they could start fresh, Sergey wouldn't have had to know about Nina's betrayal to Nagi and even the love triangle between Nina and Arika. The next could be because of how Arika treated Nina. She was willing to give Nina another chance, even after all she did. Maybe that effected Nina enough that she'd be willing to start things fresh from here. The fact that she cut her hair also makes me think that. In Japan, girls often cut their hair after a relationship ends and they're going to start anew. Really, all I can do is speculate, so I think I'll stop here. I can't wait for the upcoming OAV.