I hope I won't have to do this again for a while. I'm still not caught up, but what I have left to watch is mostly the stuff that I wasn't blogging to begin with (Futago Hime Gyu!, Ouran and Utawarerumono to name a few.)
Pretty Cure Splash Star 27
While at a festival, Mupu and Fupu disobey Saki and Mai and get themselves lost. Mai and Saki search for them, but Mizushitare is also after Mupu and Fupu. Mupu gets captured, but Saki saves him/her/it with her elite ventriloquism skills.
This was a fun episode, but Mupu and Fupu are rather un-interesting characters. Choppi and Flappy have some of the same annoying mannerisms, but at least they have some personality and maturity. The new fairies are nothing more than infant-like versions of the older ones. Their only purpose is to get into trouble it seems. Hopefully Mupu and Fupu will develop soon if they're going to remain significant characters. No Minori this time, nor on the preview.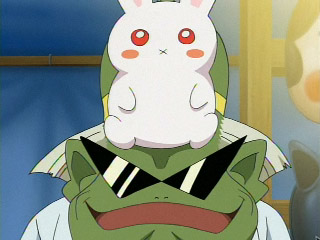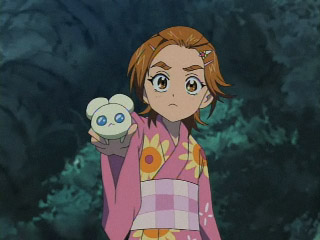 Demashitaa! Powerpuff Girls Z 07
The first part focused on the girls acting as bodyguards for a TV superhero, Miracle Fighting Ace, whom Blossom has a crush on. Mojo shows up and is defeated, Miracle Fighting Ace turns out to be a coward, and by the end of the episode, Blossom's fallen for another guy. Part two was about the latest monsters created by chemical Z, the Amoeba Boys. One's actually a girl though. The Amoeba Boys escape, but while fighting them, Blossom is able to get some answers for her rest on cell division that she forgot to study for.
Cute episodes. Surprisingly, the Mojo one was actually better than the Amoeba boys one. This was solely because of Blossom though, not Mojo Jojo. It was funny to see her fangirling Miracle Fighting Ace, who was such a big loser and really not that attractive. I also liked the fact that there was an episode giving one girl more focus than the whole group. Hopefully there will be more episodes like that, because it would help provide much needed character development.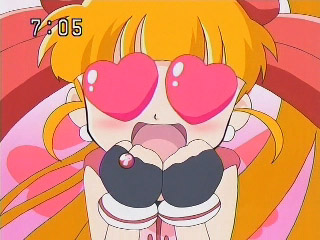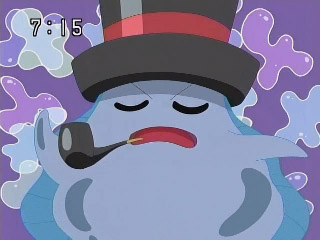 Demashitaa! Powerpuff Girls Z 08
Another two-parter. This episode starts off with a girl named Sakurako, who's in love with a boy named Souichirou. She wants to be sexy like Miss Bellum so that she can win over his affection. After being zapped by chemical Z, she becomes the monster Sedusa, who commits crimes by disguising as different people. She gets beaten and returned to normal. It turns out that Souichirou was in love with her, so they're both happy.
Sakurako kawaii! I very much like her character design. I don't remember having seen any episodes with Sedusa in the original, so I don't know if Sakurako existed beforehand. I very much doubt it though. Sedusa simply looks ridiculous, but she's a pretty sneaky villain. I don't know if she'll make a return, seeing how she was turned to normal. Next time, another Mojo episode and a Fuzzy Lumpkins episode. The Fuzzy one should be interesting and hopefully the Mojo one is too, but I don't have my hopes up.