Haruhi and the other new additions to Yuma's homeroom class introduce themselves. Haruhi is worried to see Jun in her class and is both embarrassed and relieved to learn that Jun is actually male. Later, chairs are being set up for the introduction of the younger students. Anri has her own method of doing it but makes a huge mess. She volunteers to try it again and succeed the next time, but is turned down. The next day, Sumomo and several other younger students are introduced into the school. Later, Yuma's friend invites Haruhi to go cherry blossom watching. Before she can respond, Anri states she'll come, so Haruhi decides to go to. Jun also volunteers. Some time after, Haruhi talks to Yuma about the boy from her past, but says that she doesn't know his name. She goes on about how wonderful he was though. Yuma comments that the boy won't necessarily be happy about Haruhi becoming a magic user. Haruhi stays up thinking about this, realizing that Yuma doesn't like magic. She tries to talk to him about it the next day, before the other's arrive to do the cherry blossom watching thing, but can't bring herself to say it. She winds up falling asleep on his shoulder. Sumomo shows up and seems to know Haruhi. Haruhi wakes up from hearing her talk and apologizes for falling asleep. Yuma introduces Sumomo to Haruhi. Haruhi recognizes Sumomo as well and is excited to see her. Haruhi explains that they were childhood friends. She didn't know that Sumomo was Yuma's sister, but apparently they're not blood related. Soon enough, their reunion is put on hold by everyone else showing up. They also notice that another girl is sitting by the tree, Takamine-sempai. Takamine creates food for everything with her animate green ball, Tama-chan. The group eats lunch, but eats starts to rain. Takamine can't fix the weather, so Anri tries. The rain stops for a moment, but then comes back even harder. Soon a massive torrent of water sweeps in on Haruhi and Sumomo. From the combination of the water and being drunk, nearly everyone passes out. After that madness, they all go home. Takamine questions Yuma about his dislike of magic. He says that he dosn't really dislike it.
Um… okay. This show is seriously weird but I'm seriously liking it, otherwise I wouldn't have been motivated to write such a long (for my standards) summary. If the boy Haruhi likes turns out to not be Yuma I'm going to be pretty surprised. The fact that Haruhi knew Sumomo adds to the evidence. It'd be a nice twist ending if it were someone else though. What if it's Jun? XD! I found it kind of amusing that the wand things all the magic users have talk. Takamine's ball in particular was cute, since that one actually had a face. There's a lot of weird things in this show, so I don't really know what this story is going to lead to. The next episode almost seems like a filler from the preview, but I would hope not. It certainly has potential to be a really cute romance series. I like silly stuff, but if it gets to be mindless then I don't think I'll be interested for long. Hopefully it stays enjoyable. Jun's dropkick on the preview was at least funny. He didn't have nearly enough screen time this week. :( Anri's funniness made up for it though. Her chair thing was fairly amusing.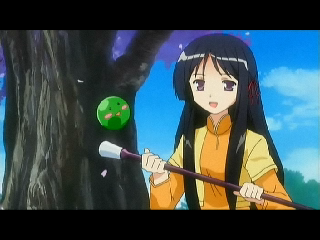 I don't feel like writing mouse over captions. I'm a bit busy right now. Sorry.