Essentially, not much happened this week. The characters remain essentially personality-less, except for Haruhiko, whom we know is an arrogant punk who makes enemies easily, but has a tender, sweet side around girls. Then there's Riko, who seems to be very self-reliant and shares a similar attitude with her "brother." In other words, they both come off as rather obnoxious, but Riko even more so. Honestly, I have no idea what I see in this show. It's just cute I guess. Anyway, the rest shall be behind a cut because there's a ton of screencaps. I probably should've doen the same with last week's entry, though there were less screencaps then.
So Riko joins the main cast. Right away, she meets Kirino, but will they have a happy reunion? I'm thinking no, as they're officially rivals for the same ugly guy's attention.

Goody! It's some plot. We get a little background about Haruhiko and Riko's childhood… not! That's what they want you to think. In reality, all that was seen was the first time they met. Riko was introduced as a new member of Haruhiko's family. Well anyway, it confirms the obvious bit that they're not related. However, it dosn't tell us why she's living with Haruhiko or why she left. Oh well, I still wanted to know.

In our next scene comes a big surprise. Despite not being blood related, Riko seemed to pick up on Haruhiko's obnxious gene. I think this scene was just trying to show her cute tsundere side and how she wants Haruhiko to notice her, but really, Riko seems to be all tsuntsun. The deredere part is half the charm, but she lack it.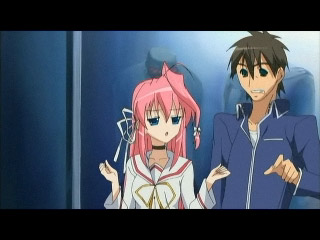 I found this scene funny, although I probably shouldn't have. I can tell I overanalyzed. Riko scrubs the toilet bowl, but Haruhiko tells her that she dosn't have to do it because she's family. Well if nobody in your family has to scrub the toilet than who the heck is going to?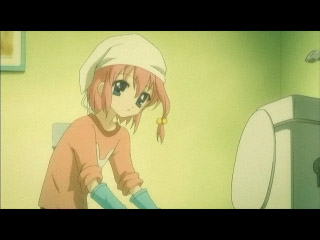 Good, more humor. Oh yeah, that's why I was watching this. Anyway, this is a typical sequence. Riko wakes Haruhiko up. Of course, he sees her panties, so she kicks him in the face. I've noticed that Haruhiko dosn't look ugly with his eyes closed. I think it's his stupidly drawn eyes that turns me away from him. I'm more attracted to men by their hair, but maybe the eyes are important too. Whether or not that's the case, I may have a thing for bandaged guys, because he's so cute with the little bandaid on his nose, even with his eyes open.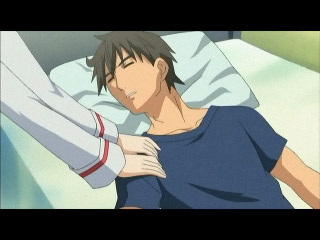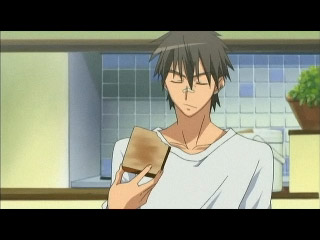 Riko is intorduced into her class. I half expected her to introduce herself as "Onii-chan no imouto," but no such luck. The teacher did point out that she was Haruhiko's sister. This guy dosn't seem to like Haruhiko much either.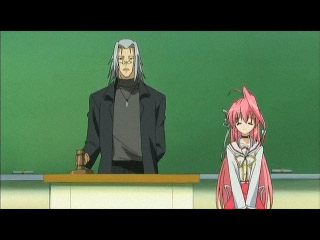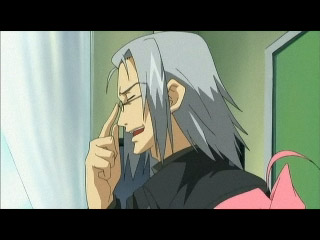 The next segment was pretty funny too. Haruhiko and his classmates watch the kendo girl train. Of course, Riko gets jealous and pushes him. He accidentally activates this crazy security system, which sends down a log that swings at him until it makes contact. If that wasn't funny enough on it's own, everyone else just stood and watched. For some reason, Kirino's expression amuses me. You know what the best part is though? Haruhiko get's yet another bandaid.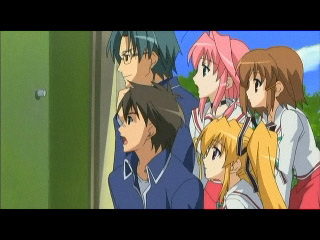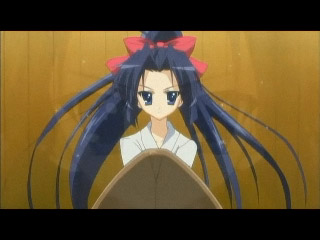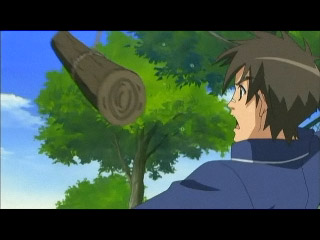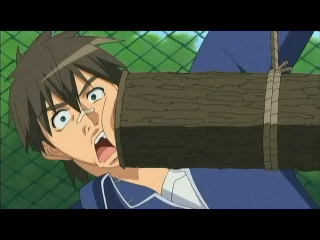 It turns out it was the kendo girl who set up the log thing. She apologizes for it. Sorry, but she's twice the tsundere that Riko will ever be. Another girl, Yukari Kamishiro (or just Yukarin) also shows up. She gives Haruhiko his bandages and warns him of the dangers of the school. Yeah, I think it's a bit too late for that.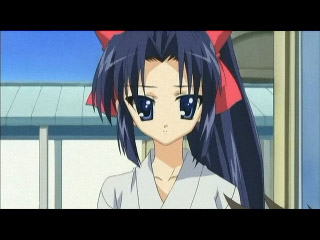 Think Haruhiko's abuse is over yet? Think again. He's got a lot of people out to get him (maybe being less arrogant would help… and less ugly) and is given more bruises. After that, he's picked on by some girls, including a Nagato look-alike. Riko isn't totally free from abuse though. She gets a glomp attack later on and her suffering can be seen in the 4th picture.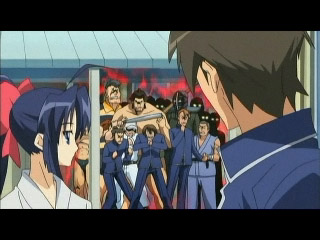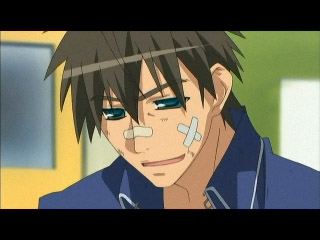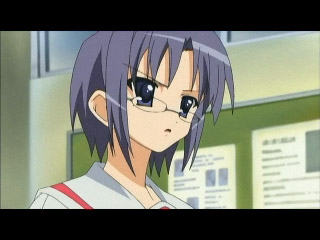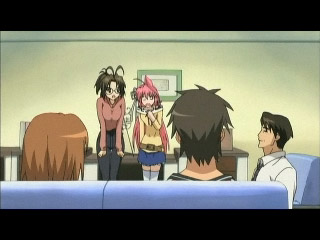 And now for the edning. Don't forget Kirino and her angst. Of course she's jealous. Haruhiko promies that they can keep walking to school together.

…but everything is not resolved. Once Kirino's happy, Riko can enter angst mode. I'd love to see how that works out in next week's exciting episode.