Due to utter boredom I've been playing through demos of visual novels. I haven't ventured past the translated ones yet though. None have impressed me more than Majipuri, but I played that one quite a while ago. (Somebody adapt it into an anime please!)
Anyway, today I sampled True Tears and found it to be very cool. Quite often, the demo games don't allow you to make any choices, but this is one in which you can. Besides that though, it has one nifty feature that I've never seen before, which is a tear meter. Basically, the choices you made would give the girls more or less tears. It's quite interesting, because it actually allows the player to track how much each girl likes them. I'm not sure what would happen when you made someone's meter go all the way up, but of course this was a demo so I shall never know. I'm also curious what happens when you win, since this is actually not an H-game. I'd kill for the full version of this game, but I hear it's rather pricey.
After reading more about this, apparently it will be adapted into a TV anime that's scheduled to be released in Spring 2007. That seems like a long time away, but I can't wait for it. I'm already rooting for either Katsura or Honoka (The two girls pictured below) to win. Right now I'm more in the favor of Katsura, who seems to be a great tsundere.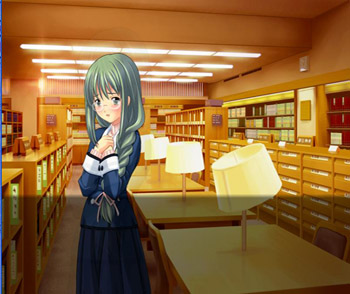 Really, there's no point to this post except for a little hype. Here's some unrelated news so it actually has a point.
-Air Gear was licensed by ADV
-Utawarerumono will keep its title. Apparently, ADV noticed the fan reaction. I'm glad, because Shadow Warrior Chronicles sounded stupid.