Preview: Once upon a time, an unsuspecting anime blogger decided to watch a show called Gift, because she likes cute romances based off hentai games. She was completely overwhelmed by the ugly animation and the clichéd plotline which ripped off Da Capo and Shuffle, so much that she fell in love. Then one day, the series got good. After several months, this good series that was still a knock off of other series ended. The ending was simplistic and predictable, but it was excellent. Happily, she took 100+ screenshots. Even after deleting them, there were still 60 that took an eternity to convert to JPEGs, far longer than the rainbow would exist in the sky. She wil probably never be tempted to take this many screenshots again, so consider it a sort of Christmas present.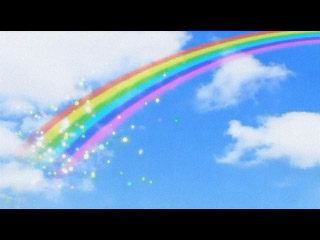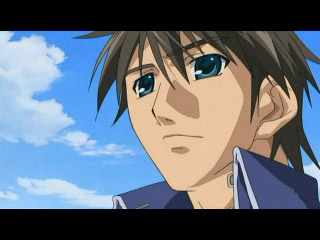 Haruhiko's gift gets rid of the rainbow from the sky. Now it's certainly not an eternal rainbow.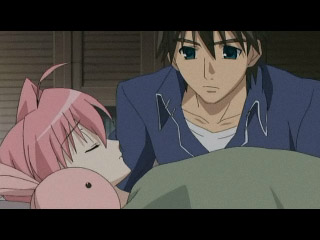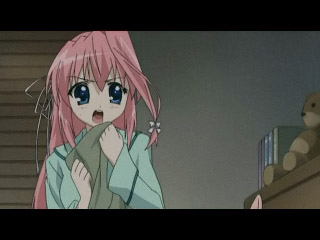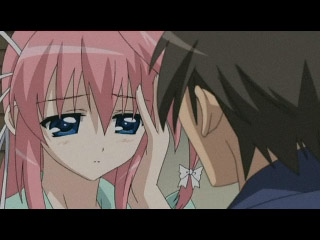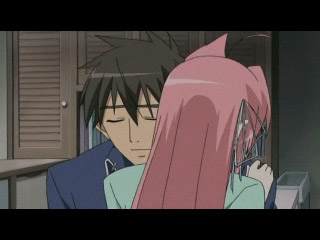 Of course, making the rainbow disappear wasn't all Haruhiko did. When he returns to Riko, she is able to remember her past again. So they're happy now. This was a very touching scene. I still feel bad for Kirino, but at this point I really am in support of Haruhiko/Riko, so I'm glad they were able to be happy.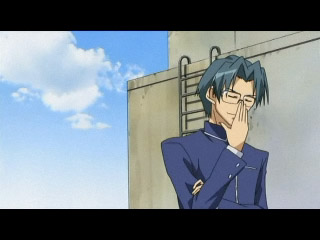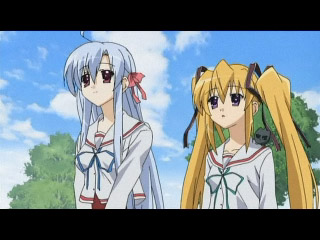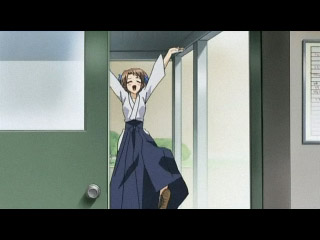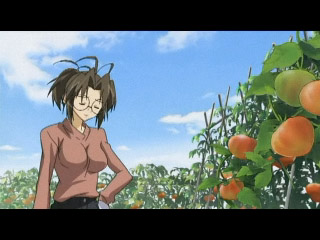 And now, we get to see what everyone else is doing at this time, as they notice the rainbow's disappearance. I love the expression on the red-haired girl's face. A ridiculous pile of work has accumulated for her. Kind of wish we got to learn this girl's deal. She as the most interesting of the randomly appearing side characters. I suppose she's covered more in the games.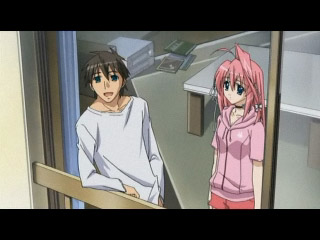 Haruhiko tells Riko a bit about his mother and the rainbow. He had been told when he was a baby that someday he's meet someone very important to him and use the rainbows great power to be with this person always. That person, of course, is Riko. They're quite happy for a moment, but then Riko thinks about Kirino.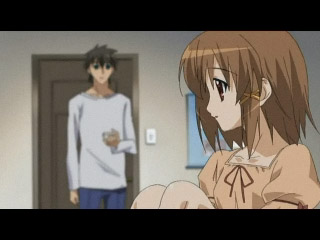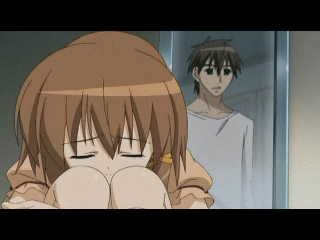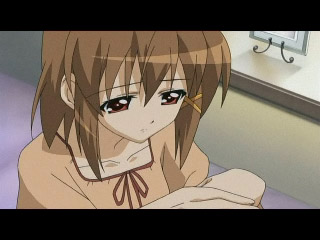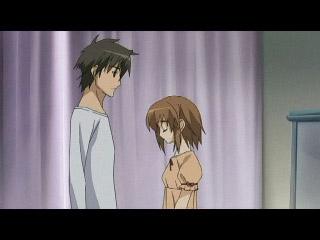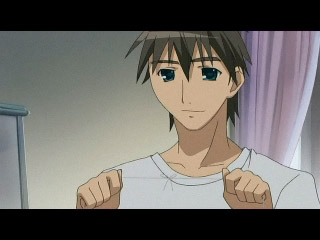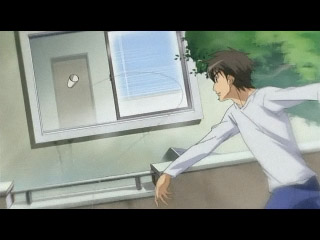 Kirino is still miserable, although no longer psycho. Haruhiko comes to visit her. He asks her to play her piano for him, but Kirino refuses. Haruhiko had bought over a box with him and inside it was the phone. He apologizes for breaking it and ties the thread back together. With the phone, he asks Kirino again if he can hear her play the piano. Before leaving, he throws it back to his room, fixing the line completely, as well as hopefully their friendship.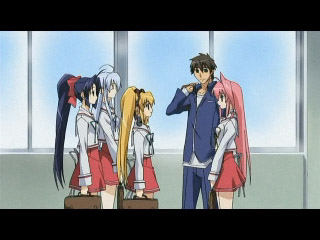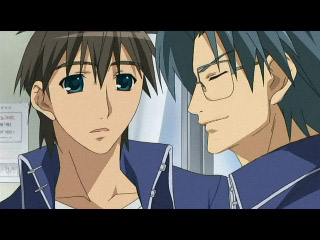 The next day, Riko goes back to school. Everyone is happy to see her, including pervy teacher. Kirino isn't back yet, but she still will be. Life is basically back to normal.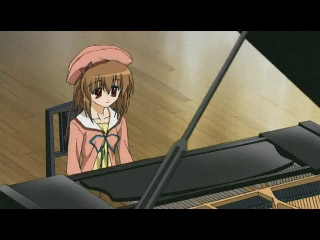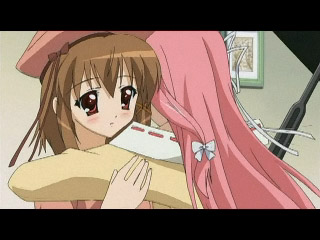 Haruhiko and Kirino talk on their imaginary phone line once again. She answers Haruhiko's question about the piano. She will finish her song for him, but she want to play it for both Haruhiko and Riko. The two go over to Kirino's house and listen to her song.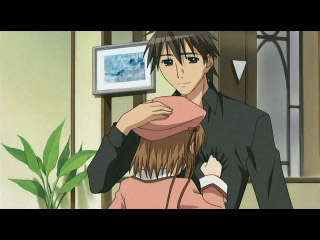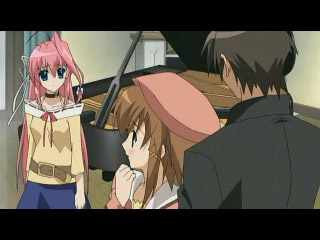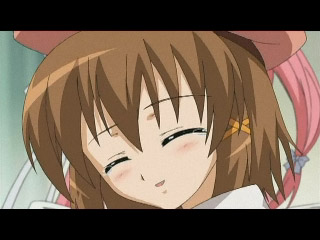 Once the song is over, everything is patched up and everyone can finally be happy. But look, there's still more time in the episode. Let's see what happens next…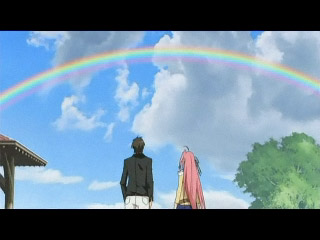 …Unfortunately, it's not Kirino in full Kaede mode slaughtering everyone. It's cute enough though, so I'll let it slide. Haruhio and Riko talk about how they'll always be together and the rainbow returns to the sky. Okay, so it is eternal.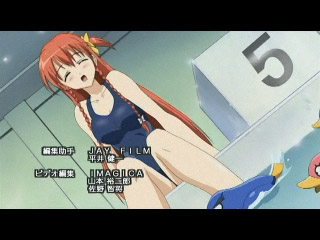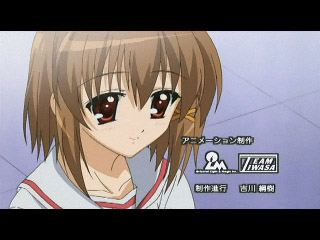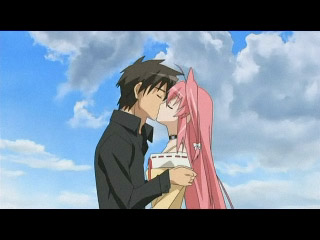 As the credits role, we get to see how everyone's doing one last time. I absolutely love when series do this, because it's usually one final display of everyone doing their thing and it's good for laughs. This was indeed cute. So now, Gift is finally over. No more crazy entries of doom, unless you count the special OAV episode. I wonder when that's going to come out and what the heck it will be about. As with most series, you will be missed.