Since my oldest SR thread is getting a bit lengthy, I think it' time to start a fresh one, at least so I don't end up with one with 100+ comments again. (Not that I don't like comments. I love them, actually. I just fear for the loading time of various pages.)
So now we've reached the end of the 3rd quarter. You know the drill. Hunter fights Stags. Stags attempts suicide jumps from the castle and lives. Buguese an Aqune steal the Oracle Key. Nuuma castle starts to fall. Hunter and Corona save the castle. Unsurprisingly, it's not very different from the dubbed version. There's dialogue differences as usual, but none that vitally changed the plot. I'm pleased to say that there's still subtle Buguese/Aqune subtext in 38. The biggest change (and this isn't saying much) was made to the ending of 39. In the Japanese version, Stags went off on one of his psychotic moments, complete with overly drawn-out meniachal laughter. I remember he was acting pretty crazy in the dub, but the scene wasn't nearly as ridiculous. I have a feeling that was edited because it was much too random. I don't think I was meant to be laughing from amusement when the episode ended, since it was a rather serious episode.
Episode 12/38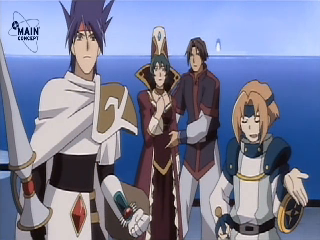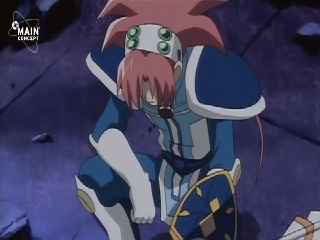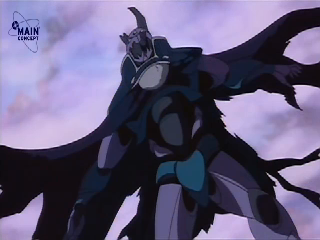 Episode 13/39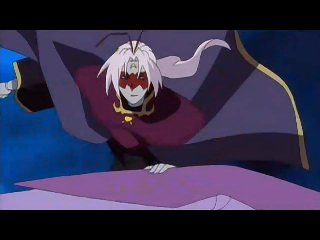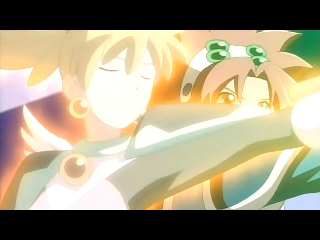 Buguese looks so cute in the picture where he's grabbing on to Portia. I was never under the impression that Buguese and Aqune could fly, so it's amazing how they can suspend themselves in the air briefly.
I have taken notice that certain episodes just have an incredible amount of eye-candy. Even if the episodes aren't that great, it's hard to limit myself when screencapping. While on the subject of prettiness, here's hoping for a new ED theme next week (especially if it has Buguese/Aqune looks cool.) It seems likely that there will be one, as each of the previous ones have lasted 13 episodes.