Unfortunately, there was no new ED like I hoped, not even a slight alteration to either theme's animation. However, there was new footage and some new BGMs. If not new, they were at least less-used ones, because I don't recall them. I especially died over the BGM used during the scene with Buguese and Aqune. It was so pretty. Now if only they were actually doing something romantic, so I could obsess over it. Let's exclude the fact that for once Aqune is actually joining Buguese in staring out his favorite window, and I'm deluded enough to squee over that.
The BGMs in general were really great for this episode. I remember I thought it was a rather dissapointing episode when I watched it dubbed, especially considering the major revelation about Aqune and Corona. However, the Japanese version was more enjoyable. I especially liked how they played the instrumental version of Koi no Keshiki (the 2nd ED). It was really fitting for this episode.
Sadly, Igneous is no longer spouting hysterical poetry, but he is speaking in Engrish, so I win either way.
New footage of Loraine. I think this is the most we've seen of her ever, even counting episode 52. I wonder what the line going down her face is supposed to be. A tear?

>_< I took all the good screencaps on my orignal post.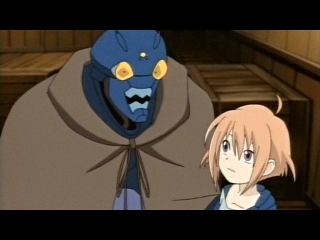 Don't expect a post for 41, because it's too boring and plotless to write about more than once.