Like most people, I was really anticipating Clannad. As the next Key game adaptation (responsible for Air and Kanon of course) and a KyoAni work, it definitely has quality behind it. So will it be able to live up to its predecessors? I'm thinking it has a chance. For the first few minutes, I wasn't that thrilled. The OP theme was lovely, at least. I've had the song for a while, so I'm familiar with it, but I like this version of it better than mine, and the animation was nice too.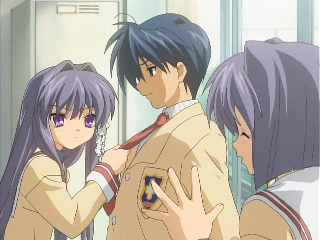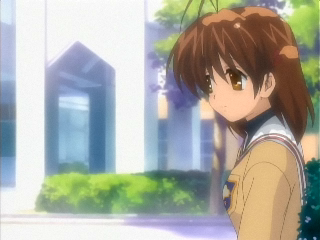 Then Tomoyo showed up. I've heard of the Tomoyo Fighter games before, but wasn't sure quite what they were about. Now I fully understand, and wish to find and play said game. Tomoyo is awesome. I didn't expect her to own so much, but I think if nothing else, she has a chance of totally making this show. That scene was just… wow.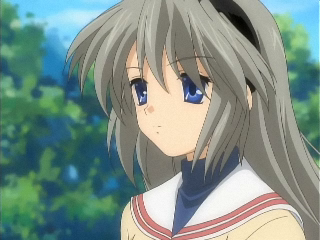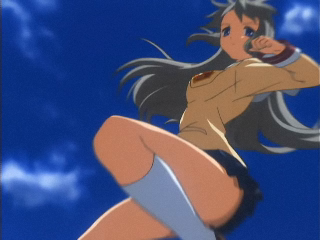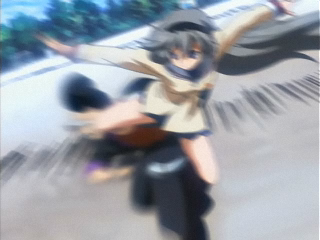 And then it goes on, remaining interesting. Nagisa's family is quite interesting. Love how they all have hair antennae. Perhaps they've got some Insector blood in them. Nagisa herself seems to have some kind of strange ability. Wonder exactly what it is, and why. We'll have to wait to find out, because the ending theme appears next, and it's completely on crack. Not that I don't like it, but it's… bizarre. In conclusion, since I suspect a lot of people will be blogging this, I probably won't. Maybe I'll do what I did with Kanon, and just do some short impressions on each girls arc.