The rival team is defeated with relative ease, especially due to the fact that Tamaki fights twice, once as herself and once as her newly-invented alter ego, Braver. The rival's captain sees through her obvious disguise, but is impressed by her skill, and challenges her to a fight against him.
I'm surprised to say that this turned out well for an all kendo episode. They still managed to keep the things I like about this show, and so it was a funny, entertaining episode. If they keep future fights entertaining enough, I should be able to follow this all the way through. I doubt future opposing teams will be as pitiful as this team though. That'll detract from some of the comedy, though at least it will create more of a challenge. Even seeing them last week, I was wondering if perhaps this new team had some kind of trick up their sleeves, but they turned out to be just as pathetic as they seemed. This was particularly apparent when one girl, after getting a phone call, got up and left. I'm not sure what the deal of that other girl, who looked totally petrified all the time, was. I got excited though when I saw that her opponent would be Miyamiya. That was also clever of them to make her go into black mode, so she could start to beat the crud out of her opponent. Anyway, next week's episode should be interesting. From the preview, it looks like they're going to be doing a lot of silly stuff as well as the fight. I'm guessing Tamaki can win, but at least it looks like she'll have a bit more of a challenge.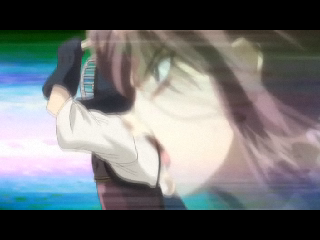 Hinako ends up living with Sana temporarily due to her mother not being home. Sana discovers that it's her birthday, and decides to take her out. He asks her what he thinks a girl would want as a present, and while Hinako thinks he's shopping for Nanaka (or Aoi) she ends up picking out things she's interested in while shopping. Sana also gets Syusuke to come so Hinako can spend time with him. Later, everyone throws a surprise party for her. Before she leaves to go back home, she gives Sana a kiss.
I think it's time for Hinako to switch harems. I don't think she has a chance with either Syusuke or Sana (actually, she probably has a better chance with Syusuke) but Sana would probably treat her better. He really is nice, letting her live with him, voluntarily attempting to eat her cooking, and then throwing her a birthday. Hinako's family situation must be pretty sad, since she says she never had a birthday like that before. For a kid, throwing big birthday parties is important. The kiss at the end wasn't too surprising. Anyway, this was a really cute episode, but it seems kind of irrelevant. It would've made sense to switch the order of this episode and last weeks, but maybe they wanted to show a creepier episode on Halloween or something. I guess it's also good for variety, so there wasn't two Hinako episodes in a row. It looks like they'll be getting back to the main story, and the development of girls that might actually win, so that she be fun. With Syusuke and Syuri's backstory next week, hopefully we'll get to find out what Syusuke actually feels about Syuri. I still think there was some kind of subtext involved in him looking at her when trying to decide what his ideal woman would be.